Surgeon: Gregory C. Berlet, MD, FRCS(C), FAOA
Specialty: Orthopedic Surgery (foot and ankle and sports medicine)
Titles: Dr. Berlet is the Managing Partner of The Orthopedic Foot and Ankle Center (OFAC), a practice devoted to multi-disciplinary foot and ankle care in Westerville Ohio. He is the past Chairman of the Education Committee for the AOFAS and a past AAOS Council on Education board member. He is a consulting physician for the Columbus Blue Jackets National Hockey League franchise and the former Chief of the Division of Foot and Ankle Surgery at The Ohio State University College of Medicine and Public Health.
Research/innovations: The author of more than 150 scientific publications, Dr. Berlet is the founding editor of Foot and Ankle Specialist, Foot and Ankle editor of Orthopedics Today and Helio.com, and an active reviewer of many journals.
Education/training: Dr. Berlet is fellowship-trained in both sports medicine and foot and ankle surgery. He earned a BSc degree from the University of Western Ontario, London, Ontario, Canada. He earned his MD from the University of Calgary, Faculty of Medicine, Calgary, Alberta, Canada. He was a foot and ankle surgery fellow at Carolinas Medical Center, Charlotte, NC, USA, and a fellow in sports medicine and arthroscopy at the University of Toronto, Ontario, Canada. Dr. Berlet is board certified by the American Board of Orthopedic Surgery and The Royal College of Surgeons (Canada). He is an active member of the American Orthopedic Association.
First Assistant: Vincent G Vacketta, DPM AACFAS, OFAC Post-Graduate Fellow.
Practice: Orthopedic Foot and Ankle Center (OFAC), Worthington, OH
INTRODUCTION

Arthrodesis of the first metatarsophalangeal joint (1st MTPJ) is a very common procedure for the treatment of severe arthritis (Hallux rigidus stage III and IV). Surgical treatment is usually indicated for symptomatic patients for whom conservative treatments failed. While other surgical procedures are available, none provide the same efficacy and functional results as arthrodesis.¹ When deciding upon the fixation construct, metal hardware has been the gold standard for many years, however, metal implants are not without complications, one being potentially triggering hypersensitivity reactions (MHS- Metal Hypersensitivity). The majority of MHS reactions in orthopedics are delayed-type hypersensitivities. With increasing numbers of orthopedic surgeries, a good alternative to permanent metal hardware is becoming a necessity.
CASE PRESENTATION
A 38-year-old female patient with a BMI of 40.2, presented to the clinic with the chief complaint of right 1st MTPJ pain and stiffness. The patient related to a prior hyper-extension injury sustained during CrossFit training which ultimately never resolved and has progressed into fulminant pain and limitation in her right 1st MTPJ. On examination, the patient exhibited symptoms consistent with hallux rigidus. The 1st MTPJ range of motion was limited with pain at the end ranges of motion, and significant dorsal exostosis consistent with her chronic injury. Weight-bearing radiographs demonstrated significant 1st MTPJ space narrowing with dorsal exostoses and findings consistent with grade 3 hallux rigidus. MRI demonstrated advanced cartilage loss of the 1st MTPJ and plantar plate injury. Ultimately, conservative efforts were met with less than satisfactory results and the patient expressed interest in surgical correction. No pertinent existing medical diagnoses or past surgeries. The patient disclosed she suffers from a Nickel allergy.
WHY OSSIOfiber® IS AN IDEAL CHOICE FOR THIS PATIENT?
In the setting of patients with metal allergies like Nickel, as is seen in this case, OSSIOfiber® implants allow good fixation, compression, and stability which is comparable to metal, without the risk of an allergic response. OSSIOfiber® technology obviates the need for difficult and painful hardware removal and avoids permanent hardware retention in the body.
Preoperative Planning:
The surgical approach is determined through critical evaluation of clinical presentation, radiographic deformity, the patient's activity and lifestyle demands, as well as patient expectations. Based on this patient's history, physical examination, and a series of imaging tests, i.e., weight-bearing foot radiographs (AP, Lateral, and Medial Oblique views) and non-contrast MRI, an Arthrodesis of the 1st MTPJ was decided as the best procedure for this patient, along with calcaneal autograft harvest.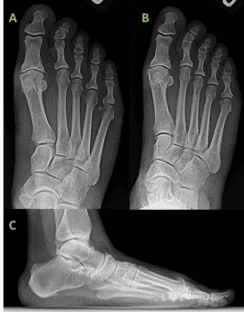 Surgical Procedure:
A 1st MTPJ Arthrodesis with a Calcaneal Autograft harvest.
The following OSSIOfiber® fixation implants were used:
• OSSIOfiber® Cannulated Trimmable Fixation Nail (CTFN) 4.0X70mm
• OSSIOfiber® Compression Staple 25X22mm
Surgical Technique Steps:
Dissection / Access
Dorsal approach over the 1st MTPJ, just medial to the extensor hallucis longus tendon. Layered dissection with careful retraction of the medial-dorsal cutaneous nerve until subcapsular visualization was achieved.
Fixation site preparation:
Sharp dissection was utilized to release and mobilize the 1st MTPJ capsule and expose the articular surfaces of the joint. Full-thickness cartilage loss was appreciated centrally both on the base of the proximal phalanx and first metatarsal. A cup and cone reamer was utilized to remove the articular surfaces of the 1st MTPJ and create an appropriate contour of the fusion surfaces, cartilage debris was then irrigated. The subchondral bone plates were morselized into a healthy bleeding substrate with the use of a 2.5 mm drill bit and osteotome for fenestration and fish-scaling respectively. Cancellous autograft obtained from the calcaneus via a power drill harvesting system was then delivered and packed into the 1st MTP fusion site.
Fixation:
With the joint reduced appropriately in all three anatomic planes, temporary fixation was achieved with a guidewire driven across the 1st MTPJ from distal-medial to proximal-lateral with care taken to ensure pur chase of the lateral 1st metatarsal cortex. Measurement for the corresponding nail was obtained, and the nail was then trimmed with a sagittal saw to the appropriate length. The OSSIOfiber® 4.0 nail was placed across the arthrodesis site in a cannulated technique. Additional compression was then achieved through the use of an OSSIOfiber® compression staple. The staple drill guide was placed on the dorsal aspect of the 1st MTPJ with care taken to avoid harm to the just placed 4.0 nail. After the appropriate placement of drill holes was confirmed with fluoroscopy, the compression staple was inserted into the dorsal aspect of the 1st MTPJ. After appropriate impaction, the staple was noted to sit flush with the dorsal cortices of the 1ST MTPJ. The final clinical and radiographic position was then assessed and was noted to be excellent.
Closure:
Layered closure was performed using #0 and 2-0 Vicryl suture for deep tissues, and 3-0 silk for skin closure. A well-padded below-the-knee posterior splint was applied to the operated foot.
Technique Pearl:
When using multiple OSSIOfiber® implants, we maintain the original radio-opaque guidewire within the foot to allow for continued visualization of the radiolucent implants throughout the operation to avoid inadvertent hardware convergence.
When using OSSIOfiber® trimmable implants, we recommend trimming the implant on the cannulated wire to avoid inadvertent dropping of the implant and to avoid destruction of the implant cannulation with the sagittal saw.
Post-Operative Protocol:
The use of OSSIOfiber® implants followed the early post-operative weight-bearing protocols traditionally utilized in patients receiving metallic 1st MTPJ fusion constructs.
Non-weight-bearing Splint for 1 week
Protected weight-bearing as tolerated in controlled ankle motion (CAM) boot for 2 – 4 weeks.
Transition from protected weight-bearing in CAM boot into weight-bearing in a supportive shoe at 6 weeks
Continue with at-home physical therapy exercises.
Patient Follow-Up:
The postoperative clinical evaluation demonstrated good healing of the surgical incision with limited swelling of the fusion site. The patient's post-operative course was uneventful and serial radiographic evaluation of the arthrodesis site demonstrated maintenance of surgical correction and osseous union of the arthrodesis site. There was no evidence of hardware failure with the OSSIOfiber® implants nor was clinical hardware prominence appreciated. At the most recent follow-up, at 3 months post-surgery, the patient demonstrated successful clinical and radiographic union and was ambulating in various types of shoe gear without limitation.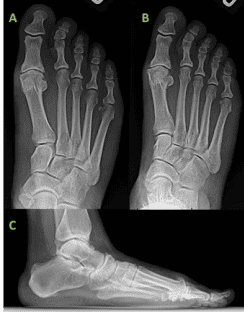 Summary:
The use of OSSIOfiber® fixation in this patient afforded successful clinical and radiographic correction of a hallux rigidus deformity without the use of retained metallic implants. In addition to the long-term benefits associated with bio-integrative fixation, the OSSIOfiber® implants allowed for robust fixation in a patient with a Nickel allergy which obviated the use of more traditional metallic orthopedic implants. Furthermore, the strength and stability of the OSSIOfiber® materials allowed for maintained adherence to early post-operative weight-bearing protocols traditionally utilized in patients receiving metallic 1st MTP fusion constructs. Excellent compression and further stability were achieved through supplemental staple fixation. The results of this case study provide further promise for the use of OSSIOfiber® in instances where compression and stability are required for deformity correction and osseous union.
References
1. Koutsouradis P, Savvidou OD, Stamatis ED. Arthrodesis of the first metatarsophalangeal joint: The "when and how". World J Orthop. 2021;12(7):485-494. Published 2021 Jul 18. doi:10.5312/wjo.v12.i7.485
2. Baumann CA, Crist BD. Nickel allergy to orthopedic implants: A review and case series. J Clin Orthop Trauma. 2020;11(Suppl 4):S596-S603. doi:10.1016/j.jcot.2020.02.008
Medical professionals must use their professional judgment for patient selection and appropriate technique.
Results from case studies are not predictive of results in other cases. Results may vary.
Please refer to the product instructions for use for warnings, precautions, indications, contraindications and technique.
Not available for sale outside of the US. Speak to your local sales representative for product availability.
For more information, please visit ossio.io
® OSSIO and OSSIOfiber® are registered trademarks of OSSIO Ltd.
All rights reserved 2023.