OSSIOfiber® Compression
Screws
Don't Just Fix It… Heal It — Naturally.
Bio-Integrative OSSIOfiber® Compression Screw and Sterile, Disposable Instrumentation
Superior Fixation meets Better Bone Healing. The Patient Experience is Yours to Transform.
Our Compression Screws deliver superior performance to conventional metal screws*,** and gradually integrate fully into bone, for a true return to full strength and a total healing that other implants simply can't provide.
* In Vitro Initial Compression Strength Test. Data on File at OSSIO.
** In Vitro Pull-Out Strength Test of 3.5x26mm OSSIOfiber Compression Screws. Data on File at OSSIO.
Specifications
Applications
Kits
Ordering Info
Bio-Integrative OSSIOfiber® Compression Screws
Comprised of OSSIOfiber® Intelligent Bone Regeneration Technology
Up to 5X increased surface area available for bone integration may contribute to a more stable construct4
Artifact free on CT, X-Ray. MRI safe
Choose the size and orientation that best fits your patients' needs:
3.5mm diameter with 12 – 32mm lengths in 2mm increments
4.0mm diameter with 26 – 60mm lengths in 2mm increments

Want to Order? Hear More?
For Product Inquiries, Customer Service, Ordering Information…
Contact Us At:
Surgical Technique for the OSSIOfiber® Compression Screw
Superior Fixation with Familiar, Reproducible Technique
Achieve Natural Bone Healing without Tradeoffs on Performance or Trusted Technique
Pre-sterilized, single-use packaging with convenient disposable instruments to reduce unnecessary exposure to pathogens
Streamlined, cannulated instrumentation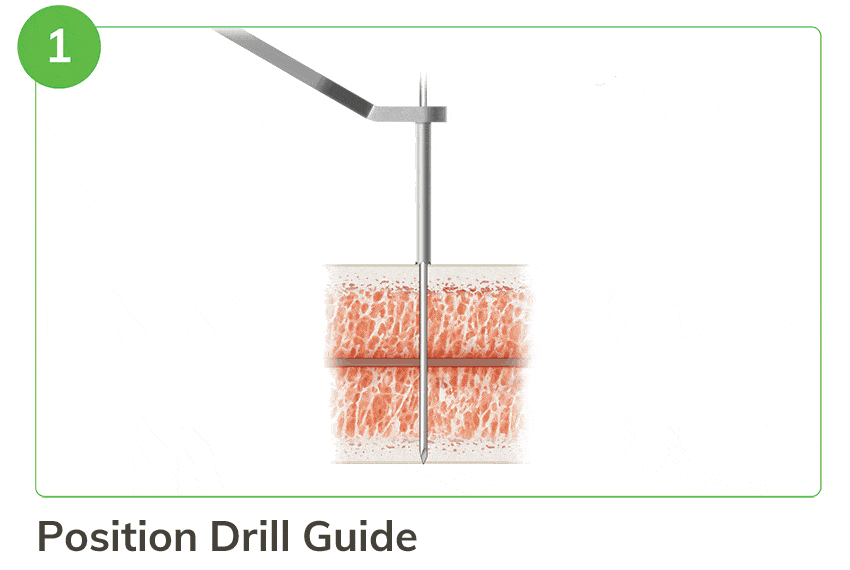 For illustration purposes only
---
The Science Behind OSSIOfiber® Intelligent Bone Regeneration Technology
A True Breakthrough in Orthopedic Fixation
As a first-of-its-kind implant material, OSSIOfiber® is stronger than cortical bone and leaves nothing permanent behind. It leverages the individual integration mechanism of both material components and internal micro-architecture to achieve the optimal environment for bone healing.
Frequently Asked Questions (FAQ)
What procedures are the OSSIOfiber® Compression Screws indicated for?
The OSSIOfiber® Compression Screws are indicated for maintenance of alignment and fixation of bone fractures, comminuted fractures, fragments, osteotomies, arthrodesis, and bone grafts, of the upper extremity, fibula, knee, ankle and foot in the presence of appropriate brace and/or immobilization.
Strong and bio-integrative OSSIOfiber Compression screws can be chosen in lieu of standalone conventional, metal compression screws. Refer to the product Instructions for Use for indications, contraindications, and additional information.

Is the OSSIOfiber® Compression Screw covered under existing reimbursement?
Yes, the OSSIOfiber® Compression Screw is covered under existing reimbursement codes in the US for common orthopedic procedures. Please contact OSSIO for more information.
What makes OSSIOfiber® different from a bio-resorbable implant?
OSSIOfiber® is the first and only Bio-Integrative Implant Technology. It is 5x stronger than conventional bio-resorbables and uniquely contributes to early bone attachment and subsequent bone integration. Findings from a 2-year preclinical study comparing OSSIOfiber® to bio-resorbables showed that unlike bio-resorbables, OSSIOfiber® integrates in a gradual and predictable way, with no adverse inflammation observed. Please refer to the "Science Behind OSSIOfiber®" page of this website for more detailed information. *Data on file at OSSIO

How long does complete bio-integration take?
The OSSIOfiber® bio-integration process begins shortly after surgery and continues in a gentle, gradual, and predictable way until it is completely incorporated into the surrounding anatomy in roughly 78-104 weeks, as proven in pre-clinical studies. After full bio-integration, the implant is completely gone and replaced by healthy bone. Bone attachment is seen in as little as 2 weeks post surgery, followed by incorporation and ultimate replacement of the implant by tissue – a process that continues until nothing permanent is left behind.

Where is OSSIOfiber® available?
OSSIOfiber® is currently commercially available in the US. If you are interested in using OSSIOfiber®, please fill out the form below and a team member will be in touch.