OSSIOfiber® Suture Anchors
Upgrade to a New Standard for Open and
Arthroscopic Soft Tissue Procedures
Bio-Integrative OSSIOfiber® Suture Anchors
Intelligent Healing for Soft Tissue Repair​
Have confidence knowing OSSIOfiber® Suture Anchors provide superior initial pull-out resistance and maintain strength vs the leading biocomposite anchor.
SUPERIOR PULL-OUT RESISTANCE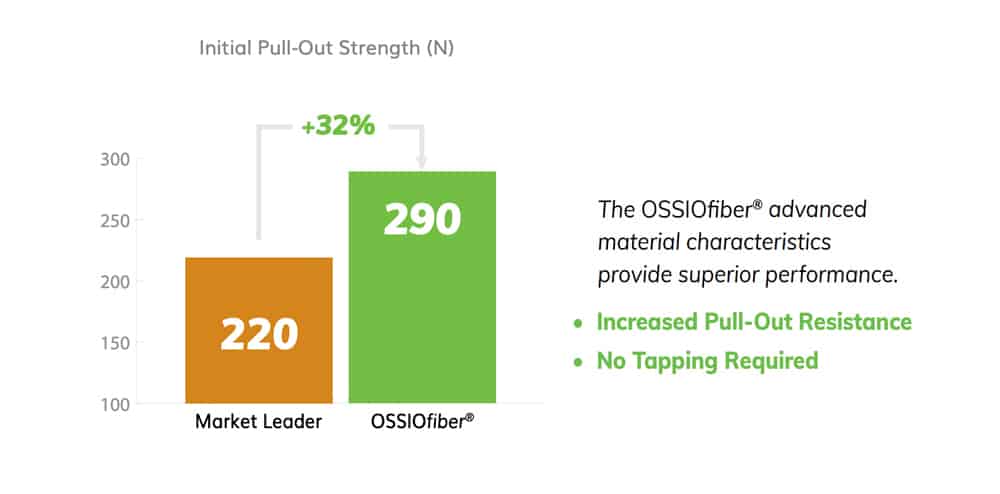 SUSTAINED PULL-OUT STRENGTH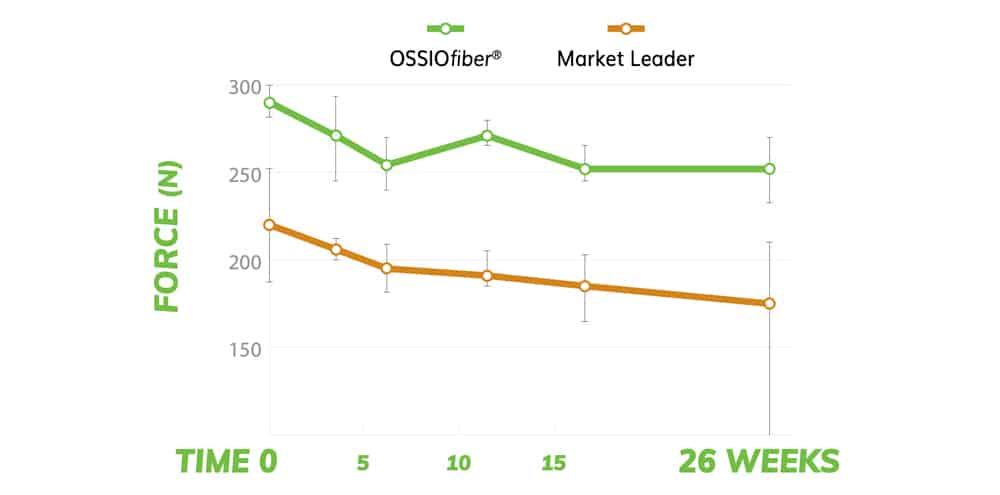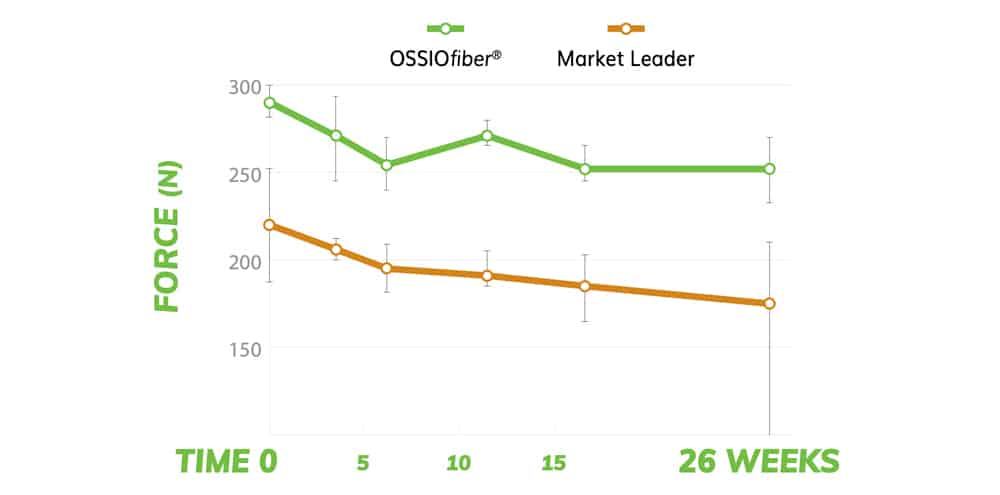 Specifications
Applications
Kits
Ordering Info
Bio-Integrative OSSIOfiber® Suture Anchors
DURAlink™ Coupling Technology – Designed to increase construct stability and minimize suture slippage, our proprietary DURAlink™ technology couples the OSSIOfiber® eyelet to the anchor, creating a single stable unit.
OSSIOfiber® Suture Eyelet – Enlarged eyelet for additional suture options
OSSIOfiber® Suture Anchor – Improved strength and pull-out resistance
High-Strength UHMWPE Tape & Round Sutures – Multiple sutures for custom constructs
Suture Organizer – Safe and easy suture management.
Suture Snare – Efficient snaring wire to ease suture capture
Release Tab – For easy inserter removal
Choose the configuration that best fits your patients' needs:
OSSIOfiber® 4.75mm Suture Anchor Blue/Black Tape, #2 suture
OSSIOfiber® 4.75mm Suture Anchor Black Tape, #2 suture
OSSIOfiber® 4.75mm Suture Anchor w/ Snare, No Suture
OSSIOfiber® 5.5mm Suture Anchor w/ Snare, No Suture

Want to Order? Hear More?
For Product Inquiries, Customer Service, Ordering Information…
Contact Us At:
Surgical Technique Guide
Safety Unmatched, Strength Unrivaled
Bio-Integrative OSSIOfiber® – A first-of-its-kind material technology that delivers peace of mind through predictable implant integration without encapsulation or adverse inflammation.​
Have confidence knowing OSSIOfiber® Suture Anchors provide superior initial pull-out resistance and maintain strength vs the leading biocomposite anchor.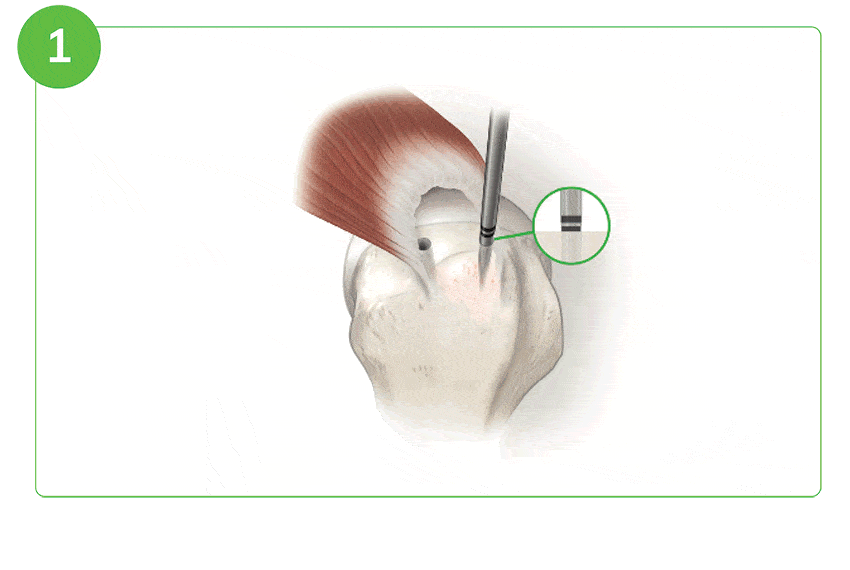 Arthroscopic Procedure
For illustration purposes only
---
The Science Behind OSSIOfiber® Intelligent Bone Regeneration Technology
A True Breakthrough in Orthopedic Fixation
As a first-of-its-kind implant material, OSSIOfiber® is stronger than cortical bone and leaves nothing permanent behind. It leverages the individual integration mechanism of both material components and internal micro-architecture to achieve the optimal environment for bone healing.
Frequently Asked Questions (FAQ)
What procedures are the OSSIOfiber® Suture Anchors indicated for?
The OSSIOfiber® Suture Anchors are indicated for fixation of suture (soft tissue) to bone in the shoulder, foot/ankle, knee, hand/wrist, and elbow in the following procedures:
Shoulder: Rotator Cuff Repair, Bankart Repair, SLAP Lesion Repair, Biceps

Tenodesis, Acromio-Clavicular Separation Repair, Deltoid Repair, Capsular

Shift or Capsulolabral Reconstruction.

Foot/Ankle: Lateral Stabilization, Medial Stabilization, Achilles Tendon Repair,

Hallux Valgus Reconstruction, Mid-foot Reconstruction, Metatarsal Ligament

Repair/Tendon Repair and Bunionectomy.

Knee: Anterior Cruciate Ligament Repair (4.75-5.5 Anchors Only), Medial

Collateral Ligament Repair, Lateral Collateral Ligament Repair, Patellar

Tendon Repair, Posterior Oblique Ligament Repair, Iliotibial Band Tenodesis

and Quadriceps Tendon Repair. Secondary or adjunct fixation of ACL/PCL

reconstruction or repair (4.75 – 5.5 Anchors only).

Hand/Wrist: Scapholunate Ligament Reconstruction, Ulnar or Radial Collateral

Ligament Reconstruction.

Elbow: Biceps Tendon Reattachment, Ulnar or Radial Collateral Ligament

Reconstruction, Lateral Epicondylitis repair (Tennis Elbow).
Refer to the product Instructions for Use for indications, contraindications, and additional information.
Is the OSSIOfiber® Suture Anchor covered under existing reimbursement? 
Yes, the OSSIOfiber® Suture Anchor is covered under existing reimbursement codes in the US for common orthopedic procedures. Please contact OSSIO for more information.
What makes OSSIOfiber® different from a bio-resorbable implant? 
OSSIOfiber® is 5x stronger than conventional bio-resorbables and contributes to early bone attachment and subsequent bone integration. Findings from a 2-year preclinical study comparing OSSIOfiber® to conventional bio-resorbables showed that unlike conventional bio-resorbables, OSSIOfiber® integrates in a gradual and predictable way, with no adverse inflammation observed. Please refer to the "Science Behind OSSIOfiber®" page of this website for more detailed information. *Data on file at OSSIO
How long does complete bio-integration take? 
The OSSIOfiber® bio-integration process begins shortly after surgery and continues in a gentle, gradual, and predictable way until it is completely incorporated into the surrounding anatomy in roughly 78-104 weeks, as proven in pre-clinical studies. After full bio-integration, the implant is completely gone and replaced by healthy bone. Bone attachment is seen in as little as 2 weeks post surgery, followed by incorporation and ultimate replacement of the implant by tissue – a process that continues until nothing permanent is left behind.

Where is OSSIOfiber® available? 
OSSIOfiber® is currently commercially available in the US. If you are interested in using OSSIOfiber®, please fill out the form below and a team member will be in touch.